Notice: This download is 1.6GB so it may take longer than usual to complete your download.
These done-for-you slide deck presentations are designed to accompany the done-for-you PLR course: Overcoming Obstacles: Build Grit, Resilience and Mental Toughness.
This product specifically focuses on grit, resilience, persistence, and overcoming challenges so your clients can finally re-gain confidence and joy in their life.

---
We've done all the hard work for you by converting the Overcoming Obstacles: Build Grit, Resilience and Mental Toughness text-based course (available separately) into a complete webinar course so you can quickly create live presentations, workshops, and webinars.
Here's What It Looks Like:

Build A Profitable Coaching Program In Just Minutes with PLR Content
We give you the complete slide deck presentations for ALL 20 lessons, which you can customize to your style and personality.
But this ain't any ol' slide deck...
Each slide deck presentation is meticulously designed with royalty free images...
...and you get the full presentation notes for each slide.
That means it's super easy to download the pre-made slides and start recording your webinar presentations today. Just read the notes and add your own anecdotes.
See for yourself...
---
Here's What The Overcoming Obstacles PLR Presentations Look Like: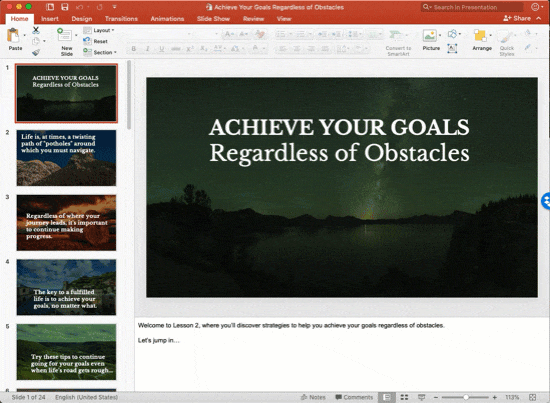 Your Clients Need Your Expert Guidance To Develop Grit and Resilience...
The employee who FAILED to get that all-but-guaranteed promotion and is in a rut
The new couple that is having a challenging time COPING with life's stresses
The stay-at-home mom who dreams of STARTING her own business
The university student who is TRAPPED and wants to pursue his passion
The new retiree who wants to write a SECOND chapter to life
ANYONE longing to REWRITE their story and overcome the mental and physical roadblocks of life
This is a complete done-for-you PLR webinar course ready to be customized and launched by you as soon as you get it.
---
Here's what you get inside the Overcoming Obstacles: Build Grit, Resilience and Mental Toughness webinar course:
There are 4 modules with 20 total lessons. This isn't some fluffy slide deck with photos of cute kittens, posing as a webinar course.
We took the written course (available separately here) and created 20 PowerPoint (PC/Mac) presentations and added presentation notes so you don't even have to think about what to say.
If you can read, you can present this today.
Here's the breakdown...
Module 1: The Overwhelming Force Method of Handling Setbacks
One of the most powerful ways to overcome obstacles and setbacks is to confront them with overwhelming force. To simply attack obstacles with grit and determination and to never give up. To keep pushing even when you run up against a wall. This module will teach your students how to meet their obstacles head on and keep going until they overcome them.
Lesson 1 - Overcoming Obstacles Course Introduction
Lesson 2 - Achieve Your Goals Regardless of Obstacles
Lesson 3 - 7 Common Obstacles to Your Goals and How to Navigate Them
Lesson 4 - Remove Fear and Eliminate Many of Your Challenges
Lesson 5 - Direct Solutions: The Fastest Way to Resolve Challenges
Lesson 6 - Get Your Creative Juices Flowing When You're Up Against a Wall
Lesson 7 - 8 Proven Strategies That Help You Get Through Hopeless Situations
Lesson 8 - Believing in Yourself Through the Toughest Times
Lesson 9 - Overcoming Failures to Reach Success
Lesson 10 - Module 1 Summary and Reflection
Module 1 Quiz - The Overwhelming Force Method to Handling Setbacks
Module 2: The Mental Motivation Trick
Motivation certainly involves physical energy, but a huge portion of it is mental. If you can get yourself into the right mindset, you can significantly boost overall levels of motivation. In this module, your clients will discover how to prime their minds for maximum motivation.
Lesson 11 - How to Motivate Yourself to Do Great Things
Lesson 12 - Achieve Greater Success With a Daily Self Motivating Regimen
Lesson 13 - Maintaining the Enthusiasm to Succeed Despite Struggles
Lesson 14 - Module 2 Summary and Reflection
Module 2 Quiz - The Mental Motivation Trick
Module 3: Learning To Persevere
You simply cannot overcome obstacles if you are unable to persevere in the face of difficulty. Perseverance allows you confront obstacles with boldness, knowing that you will be able to keep going even when things get hard. In this module, your students will learn expert tactics for pushing through even when things get hard. They'll discover the powers of grit and determination.
Lesson 15 - Grit versus Talent
Lesson 16 - Persistence Pays: Learning to Finish What You Start
Lesson 17 - Instead of Quitting - Try This
Lesson 18 - Module 3 Summary and Reflection
Module 3 Quiz - Learning to Persevere
Module 4: Write Your Own Success Story
This final module is about helping your students visualize their future and have faith that they truly can overcome any obstacle they face. They are going to write their own story, going on in detail about what the future will look like, how they'll conquer their obstacles, how they'll move past failure, and much more. This is where they move from knowledge to application. It's where the rubber meets the road.
Lesson 19 - Writing Your Own Success Story - Part 1
Lesson 20 - Writing Your Own Success Story - Part 2
---
Here's what this done-for-you course do for you:
DEMONSTRATE your knowledge, expertise, compassion, and wisdom
ATTRACT those who would not normally want coaching
BUILD and strengthen your brand
Become the GO-TO person for those who want to overcome obstacles
Generate CONSISTENT passive income
ATTRACT only the best clients
SELL MORE of your other products and services
GROW your email list
Build a POWERFUL sales funnel
TEAM UP with affiliate partners to connect with other audiences
GROW personally in your ability to CONQUER obstacles
Here's How To Use This PLR Course:
Step 1: Upload the text-based course materials (available separately) to your favorite WordPress-based course software or LMS (learning management system)... or upload to your favorite course building software like Thinkific, Udemy, or Everlesson.
Step 2: Build your list using a lead magnet. Download our done-for-you lead magnet and our landing page PLR template.
Step 3: Create your sales page. Use our stunning pre-made sales page, written, designed, and coded for you.
Step 4: Record a video sales letter (VSL). You can download our done-for-you video sales letter.
Step 5: Create an upsell for a video coaching program. You can easily charge an extra $49 - $149+ for the video version.
Step 6: Run Facebook ads to the lead magnet or retargeting ads to the course. We created done-for-you Facebook ads that you can tweak and use as your own.
Step 7: Send this email sequence to those who download the lead magnet, encouraging them to purchase the full coaching program... and engagement emails to those who purchase the course to minimize refunds.
Step 8: Host it as a live webinar training series. You can download the done-for-you presentation slides found on this page.
---
Additional Pricing and Marketing Strategies:
Pricing recommendation: $99 - $199+ for the initial course, plus an additional $49 - $149+ for the video version or live webinar training.
Physical product: Print it out and sell this physical home-study program.
Don't have course software? Just send the modules as an email-based course. Keep it simple and get started right away.
Additional upsells: Create another upsell or a "gold package" that includes private coaching, group coaching, or email coaching.
Bring the course on the road: Run the course as a weekend retreat, transformational retreat, or live event. You can easily charge $500 to $5,000+ for a live event that includes group sessions, private coaching, pampering, and gourmet dining.
---
The Bottom Line
These done-for-you PLR presentation slides are the fast and easy way to create a video or webinar version of your coaching program.
You can launch IMMEDIATELY, without writing a single word...
So go ahead and download the presentations slides and get started!
MORE