This landing page template is designed to accompany the done-for-you lead magnet: 8 Simple Ways To Supercharge Your Motivation Every Day and the done-for-you course: Overcoming Obstacles: Build Grit, Resilience and Mental Toughness.

---
This beautiful landing page template typically converts between 50-60%, but of course it depends on your audience, targeting, and other factors.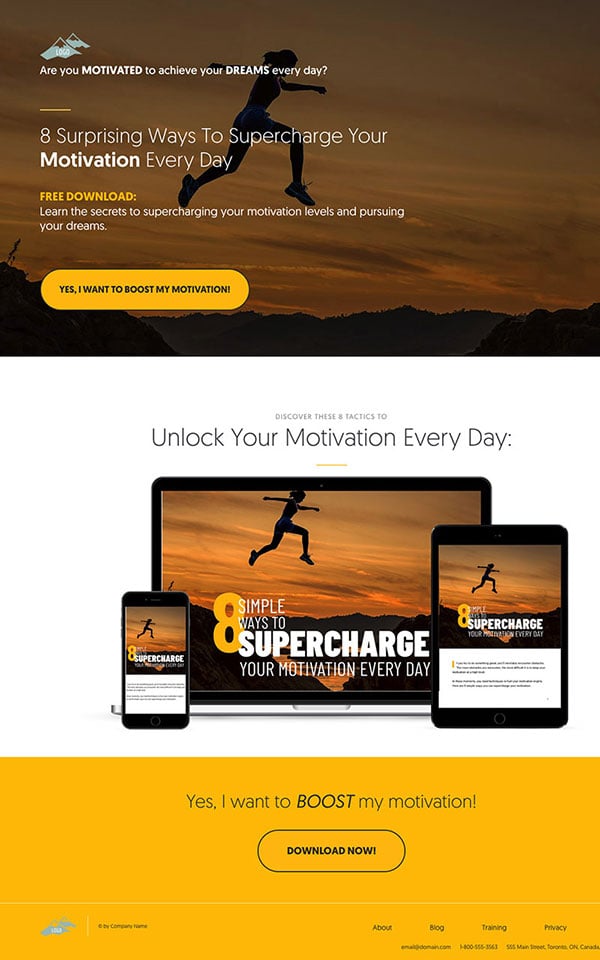 And it's yours to download and use as your own!
The marketing copy is already written for you and the layout is optimized for mobile devices and desktops.
All you need to do is download this HTML template, connect your email autoresponder, and upload it to your site.
Note: This landing page is not coded for WordPress. This page is coded in Bootstrap v3.3.6 and you get all source files: images, CSS, JS, and fonts.
Not sure what to do? Just pass it along to your webmaster.
---
Here's What It Looks Like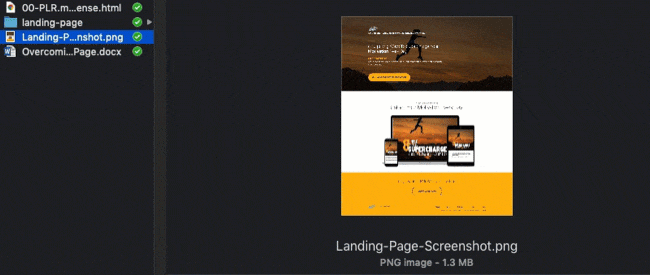 ---
Why Do You Need A High Converting Landing Page?
We want you to get a regular stream of new leads and clients...
...and that starts with an opt-in page that captivates and converts.
Your landing page is the first page that new prospects see when they land on your site.
A good landing page has to:
Make a great first impression
Convey the core benefits of the offer quickly and persuasively
Look beautiful and modern
Get your site visitors to sign up within about 60 seconds before they leave your site.
It's a tall task for a simple page!
That's why you want to ensure that your landing page converts extremely well...
Unfortunately, most landing pages are untested and just don't convert.
That's why we built this stunning landing page, especially for the 8 Simple Ways To Supercharge Your Motivation Every Day lead magnet.
Simply download it, add your branding, connect it to your email provider, then upload it to your server...
...and you're done!
---
How can you use this landing page to get traffic, leads, and clients?
Here are a few ideas to drive traffic to your landing page:
Ask colleagues, partners, or affiliates to promote your lead magnet. In exchange, you can promote their stuff.
Post a link on your social media accounts.
Reach new clients through Facebook ads. You don't have to spend much... even $5/day to start is a good first step. You can use our pre-made Facebook Ads (available separately) that we created especially for this landing page.
Answer relevant questions and give advice on Quora, Forums, and Facebook Groups. Don't sound overly promotional, just be genuinely helpful.
---
Here's How To Use This PLR Course:
Step 1: Upload the Overcoming Obstacles course to your favorite WordPress-based course software or LMS (learning management system)... or upload to your favorite course building software like Thinkific, Udemy, or Everlesson.
Step 2: Build your list using a lead magnet. Download our done-for-you lead magnet and this landing page PLR template.
Step 3: Create your sales page. Use our stunning pre-made sales page, written, designed, and coded for you.
Step 4: Record a video sales letter (VSL). You can download our done-for-you video sales letter.
Step 5: Create an upsell for a video coaching program. You can easily charge an extra $49 - $149+ for the video version.
Step 6: Run Facebook ads to the lead magnet or retargeting ads to the course. We created done-for-you Facebook ads that you can tweak and use as your own.
Step 7: Send this email sequence to those who download the lead magnet, encouraging them to purchase the full coaching program... and engagement emails to those who purchase the course to minimize refunds.
Step 8: Host it as a live webinar training series. You can download the done-for-you presentation slides.
---
The Bottom Line
You can use this done-for-you landing page to promote your lead magnet (available separately) so you can generate new coaching leads, build your email list, boost engagement via email, and draw people into your other products and services.
So go ahead and download this done-for-you high converting landing page and get started!
SHOW MORE