Want to promote your Overcoming Obstacles PLR Course via Facebook?
Don't struggle to create the ads. Just use these done-for-you Facebook ads. And you're done.
You get 10 done-for-you Facebook ads as well as 14 professionally designed ad images to use. Mix and match and test which ad copy and ad image resonates best with your target audience.
You can run these Facebook ads to your existing fans and followers, or reach new people outside of your usual tribe.

---
Here's What Done-For-You Facebook Ads Looks Like: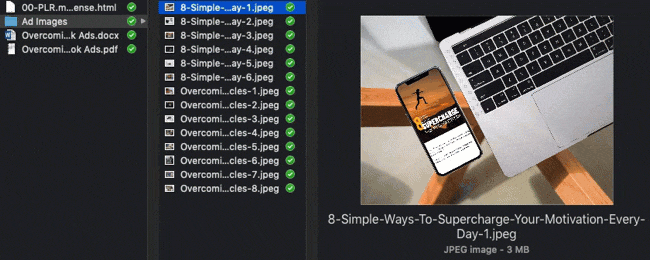 ---
Who might you target in your Facebook advertising?
The employee who FAILED to get that all-but-guaranteed promotion and is in a rut
The new couple that is having a challenging time COPING with life's stresses
The stay-at-home mom who dreams of STARTING her own business
The university student who is TRAPPED and wants to pursue his passion
The new retiree who wants to write a SECOND chapter to life
ANYONE longing to REWRITE their story and overcome the mental and physical roadblocks of life
You can easily target these audiences on Facebook and offer a free lead magnet in exchange for their name and email. You can download and brand the 8 Simple Ways To Supercharge Your Motivation Every Day lead magnet that we created especially for the Overcoming Obstacles PLR course.
These done-for-you Facebook ads are super easy to visualize and use as your own.
You will see the layout of the ads as it would appear on Facebook, so you can easily see what text appears above and below the image.
And as usual, you can tweak the ads and make them your own - that's the beauty of PLR.me!
---
Here's How To Use This PLR Course:
Step 1: Upload the PLR course to your favorite WordPress-based course software or LMS (learning management system)... or upload to your favorite course building software like Thinkific, Udemy, or Everlesson.
Step 2: Build your list using a lead magnet. Download our done-for-you lead magnet and our landing page PLR template.
Step 3: Create your sales page. Use our stunning pre-made sales page, written, designed, and coded for you.
Step 4: Record a video sales letter (VSL). You can download our done-for-you video sales letter.
Step 5: Create an upsell for a video coaching program. You can easily charge an extra $49 - $149+ for the video version.
Step 6: Run Facebook ads to the lead magnet or retargeting ads to the course. We created done-for-you Facebook ads that you can tweak and use as your own.
Step 7: Send this email sequence to those who download the lead magnet, encouraging them to purchase the full coaching program... and engagement emails to those who purchase the course to minimize refunds.
Step 8: Host it as a live webinar training series. You can download the done-for-you presentation slides.
---
The Bottom Line
Why write Facebook ads from scratch when you can use these done-for-you ads and graphics?
You can launch your ad campaign TODAY, without writing a single word...
So go ahead and download the done-for-you Facebook ads to promote your overcoming obstacles course and get started!
SHOW MORE