If you want to grow a sustainable coaching business, you absolutely need to focus on growing your email list.
And the best way to grow your email list?
A compelling freebie that turns your visitors into leads on autopilot.
And when it comes to the typical life and success coach's audience, you want a lead magnet that captivates without overwhelming them with too much stuff.
That's why we created this lead magnet: 8 Simple Ways To Supercharge Your Motivation Every Day
It's short, actionable, and easy to follow. And it's designed to accompany the done-for-you course: Overcoming Obstacles: Build Grit, Resilience and Mental Toughness PLR Course.
This handy four-page giveaway is the perfect freebie to get a site visitor to opt-in and join your email list.
Why?
Because your clients are looking for ways to build grit, resilience, persistence, and passion to overcome the typical barriers and obstacles in their life.
You can even add additional value by recording a video version of the checklist and walk people through how they might use it on a daily basis to encourage self-reflection.

---
Here's What It Looks Like: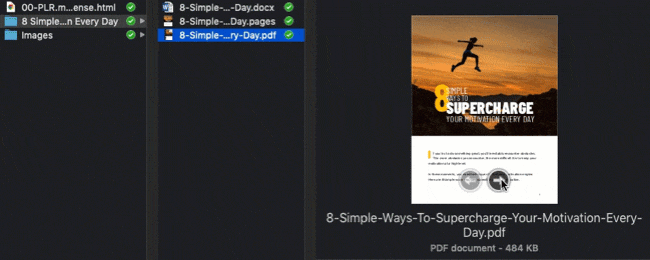 ---
You can have affiliate partners promote this lead magnet, post it on your site, or even advertise via Facebook. You can use our pre-made Facebook Ads (available separately) that we created especially for this lead magnet.
You get the DOCX version, Apple Pages version, the PDF version, and promotional graphics so you can easily tweak it, brand it, and give it away.
Plus, you get several images and mockups that you can use on your site or in your marketing.
---
Here's How To Use This PLR Course:
Step 1: Upload the PLR coaching program to your favorite WordPress-based course software or LMS (learning management system)... or upload to your favorite course building software like Thinkific, Udemy, or Everlesson.
Step 2: Build your list using a lead magnet. Download this done-for-you lead magnet and our landing page PLR template.
Step 3: Create your sales page. Use our stunning pre-made sales page, written, designed, and coded for you.
Step 4: Record a video sales letter (VSL). You can download our done-for-you video sales letter.
Step 5: Create an upsell for a video coaching program. You can easily charge an extra $49 - $149+ for the video version.
Step 6: Run Facebook ads to the lead magnet or retargeting ads to the course. We created done-for-you Facebook ads that you can tweak and use as your own.
Step 7: Send this email sequence to those who download the lead magnet, encouraging them to purchase the full coaching program... and engagement emails to those who purchase the course to minimize refunds.
Step 8: Host it as a live webinar training series. You can download the done-for-you presentation slides.
---
The Bottom Line
This done-for-you lead magnet is a fast way to grow your list.
The best part?
You don't have to create this from scratch. You get the source files and promotional graphics - ready to upload and giveaway.
So go ahead and download this brandable lead magnet to promote your course Overcoming Obstacles: Build Grit, Resilience and Mental Toughness.
MORE