The Ultimate Guide to Planning Your Content Marketing & Social Media Calendar
The most successful personal brands and influencers don't wait to get "inspired" before posting content.
Why?
Because publishing content at random, irregular intervals isn't effective.
The secret?
The algorithm rewards relevancy and consistency.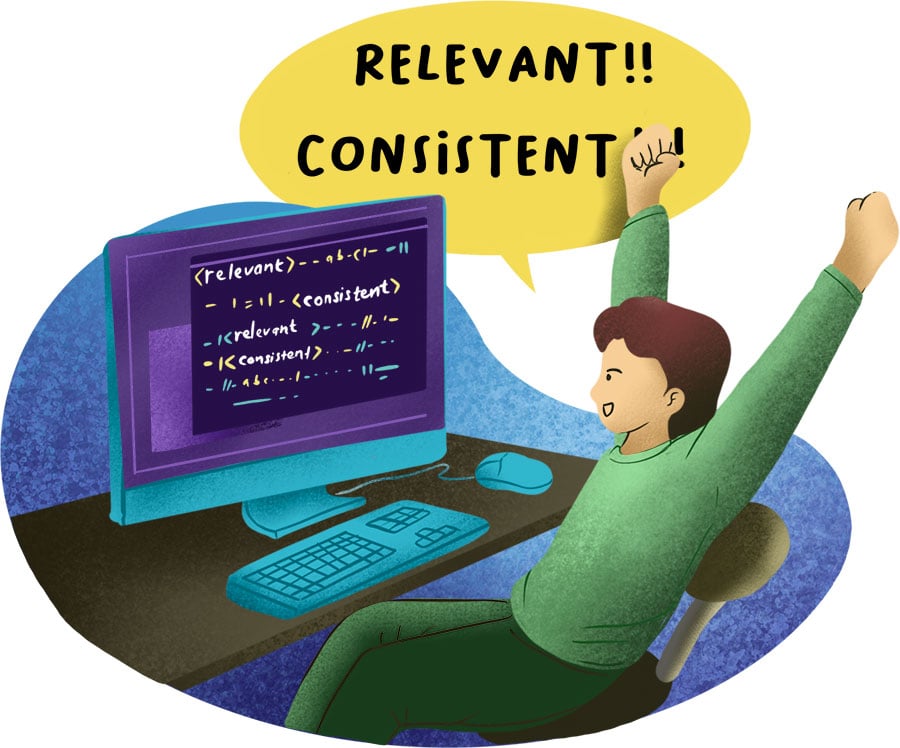 If you want to reap the benefits of greater reach and a community who hangs onto your every word, you need to be consistent.
But… how?
One of the best ways is to implement a content marketing calendar.
Using a content calendar gives you a practical process to keep your brand in front of your tribe on a consistent basis. "Consistency" is the operating word here.
As the experts at Convince and Convert put it:
Consistency is insanely critical to content success. Yes, amazing new ideas and brilliant sparks of creativity help, but we can't rely on them alone. They're too inconsistent and unreliable. Instead, everyone needs to be on the same page with what content is being created, plus where and when it's being published. It has to be done on a regular, ongoing basis. That is precisely where content calendars come into play.
Why Do You Need A Content Marketing Plan?
Here are five reasons you should consider implementing a social media marketing content calendar into your marketing plans:
Simplify the creative process. When you follow a publishing calendar, it minimizes the creative struggle of trying to figure out what to create. Just follow the schedule and share the great content with your tribe. No more staring at a blank cursor, wondering what to post.
Build authority. The more content you publish, the more you become known as the expert authority in your industry. When people keep seeing your posts everywhere, you're staying top of mind because of the frequency and quality of your posts.
Attract more clients. A study by Forrester found that the average person consumes 11.4 pieces of content before making a purchasing decision. The more of your content a person consumes, the higher the odds they'll want to work with you.
Build deeper connections with your clients. Consistently publishing content is a way of establishing rapport with your audience. The more content they get from you, the more they'll get to know you and trust you.
Boost your social reach and visibility. Planning out your content allows you to stay relevant and consistent. Facebook and YouTube reward this consistency by giving you greater reach.
It's hard to achieve any of these benefits if you're not regularly publishing great content to your audience.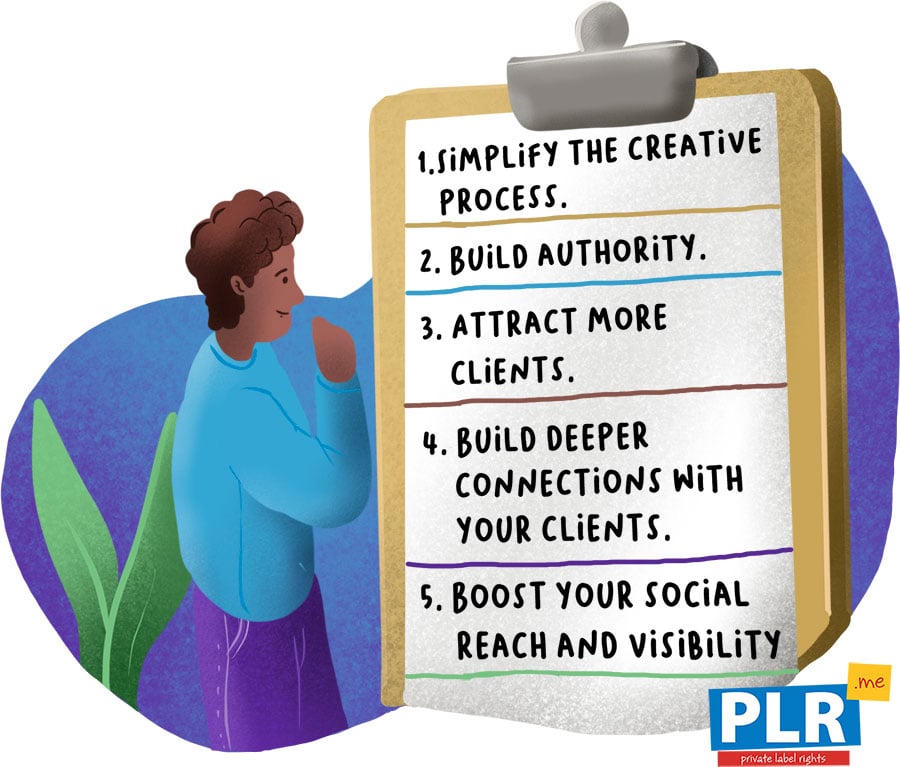 The bottom line:
A content marketing calendar makes it easier to publish content on a consistent basis. This helps you attract quality clients and forge stronger relationships with your audience.
What is a Content Marketing Calendar?
Let's make sure we're on the same page in terms of what a content calendar actually is:
A content marketing calendar is a detailed schedule of what you're going to share with your audience. It's based on current events and holidays that your audience has on their mind throughout the year.
Instead of desperately trying to come up with something new to share every day, you follow the calendar. Simple.
Plus, you ensure that you won't miss important events or book big promotions on an important holiday.
PostPlanner puts it well when they say:
An effective content calendar saves you time & energy. It keeps you organized & on track throughout your hectic workday.
Most importantly, it keeps your readers & audience engaged by preventing your content from stagnating – or getting repetitive or overly random.
When you have a content plan, you don't have to struggle each week to figure out what you should share with your tribe.
How Do You Plan A Content Marketing Editorial Calendar?
The first step is to look at the calendar and make a list of upcoming holidays. Are there any holidays that align with your stories, examples, or content?
Look at the week or month ahead and start mapping out your content to the calendar.
Ultimately, it's up to you to determine how far in advance you want to plan. Some people plan a month in advance, while others map out the entire year. Obviously, planning takes more work on the front end, but gives greater rewards on the back end.
In other words... it takes a ton of work to plan out an entire year's worth of content, but once it's organized, you just have to follow the plan.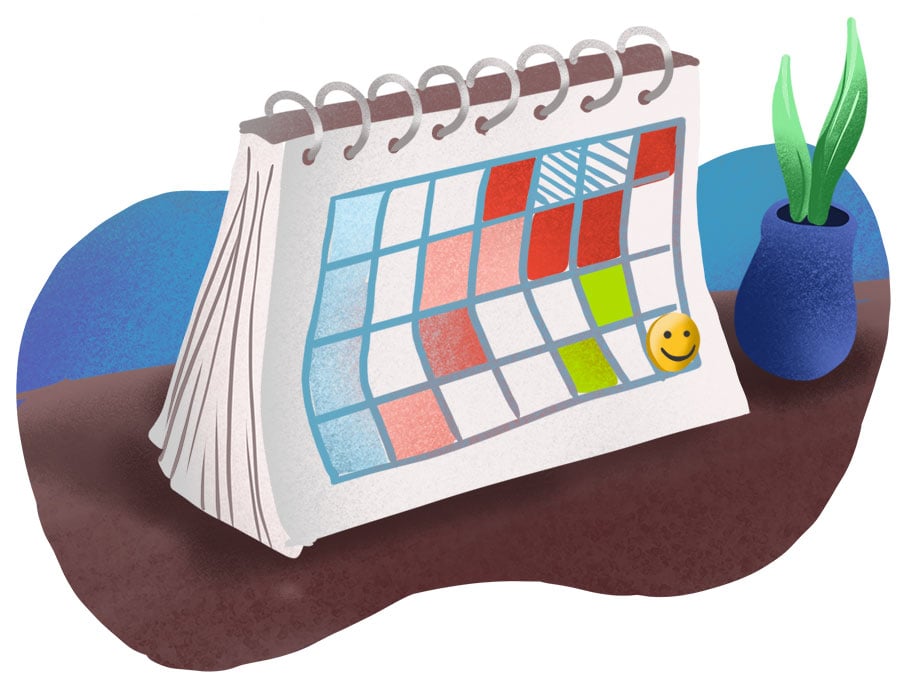 Planning things further in advance can be especially helpful if you know you're going to be on holiday. You don't have to worry about what you're going to publish because you've already got it on the schedule. Just use the built-in scheduling features of Facebook, your email provider, or WordPress – set it, forget it, and enjoy your vacation!
Of course, the closer you tie your content to the actual calendar, the more successful you'll be. For example, in January your clients are thinking a lot about goals and resolutions. While in June, there's the end of school, graduations and the start of summer. Your content plan should reflect this in some way.
How Do You Create Content For Your Social Media Content Calendar?
"Content" is a broad term that can encompass many different forms.
The ideal marketing mix is to share content in different formats – text, audio, video, graphics, live streams. When you do, you'll attract clients with different preferences or learning styles.
Here are a few types of content you can publish as part of your content marketing plan...
Videos
Of course, YouTube is king when it comes to video, but videos are really hot on platforms like Instagram, Facebook, and LinkedIn. We recommend sharing at least 1 video per week.
Social networks reward consistency with greater reach and visibility. So just like a hit TV show, publish your video on the same day and time every week to build up momentum and consistency. For example, schedule your videos to go live every Wednesdays at 9am ET – and stick to it every week!
The ideal video length for YouTube is around 10 - 15 minutes. YouTube wants viewers to stick around longer on their platform, so they're rewarding longer videos with greater reach.
The ideal length is 1-3 minutes for Facebook and LinkedIn – and under 60 seconds for Instagram. If you're posting on Facebook, Instagram, or LinkedIn – shorter is better to capture attention as the audience scrolls through the newsfeed. Also, square videos tend to perform better on these platforms
High quality is key. You need to look pro if you want to stand out, but if you think you need to run out and purchase expensive equipment, forget it. You probably already have what you need to look great!
Put your smartphone or webcam on a tripod so you get a steady shot. Don't have a smartphone? We recommend a $100-200 Logitech HD/4k webcam.
Make sure you're recording in a well-lit room, or use some simple lamps to light up your face. Wistia put together a great lighting guide.
Use a lapel microphone so you sound clean and crisp. We recommend the Rode Smartlav+.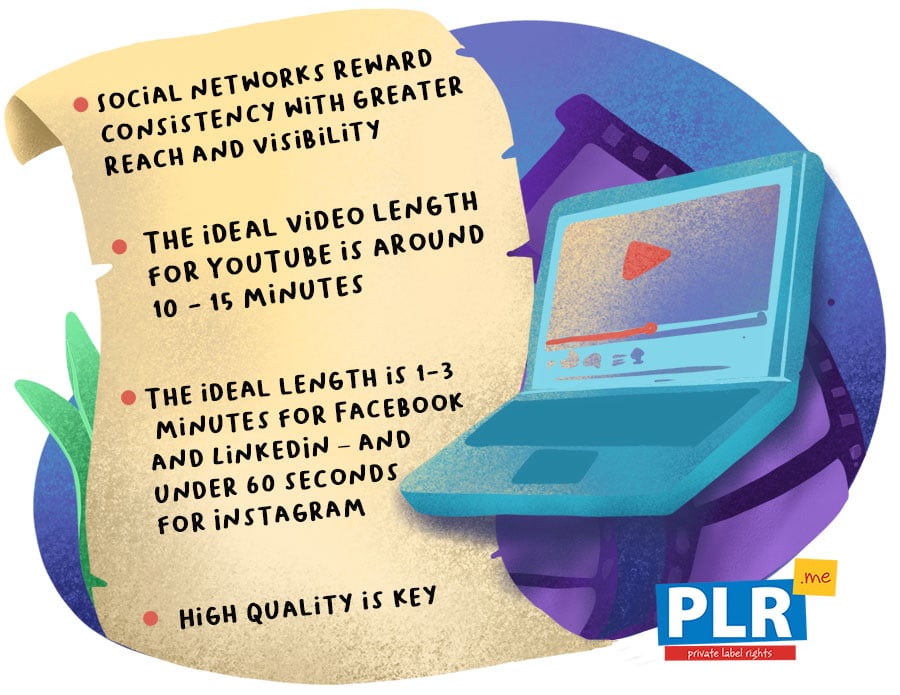 Blog Posts
Blog posts allow you to share in-depth value with your audience. Typically, we recommend publishing at least 1 blog post per week.
Go deep. Aim for 1,500 - 2,000 words for your blog post. Share specific strategies, stories, and examples that resonate with your audience.
Readability matters. If you want your readers to stick around and boost the time on your site, you need to make your content easy to read. Break up text into shorter paragraphs, headers, subheaders, lists, and use formatting to emphasize key points.
Insert relevant calls to action. Your goal is to get your readers onto your list, so make sure you offer a "content upgrade" (more on this below!) in exchange for their email address. The more related the freebie, the higher the conversion rate.
Give your post some love! Do the work to share your post with your audience. Send an email to your list, link to your blog post on LinkedIn, Twitter, Facebook, and so on.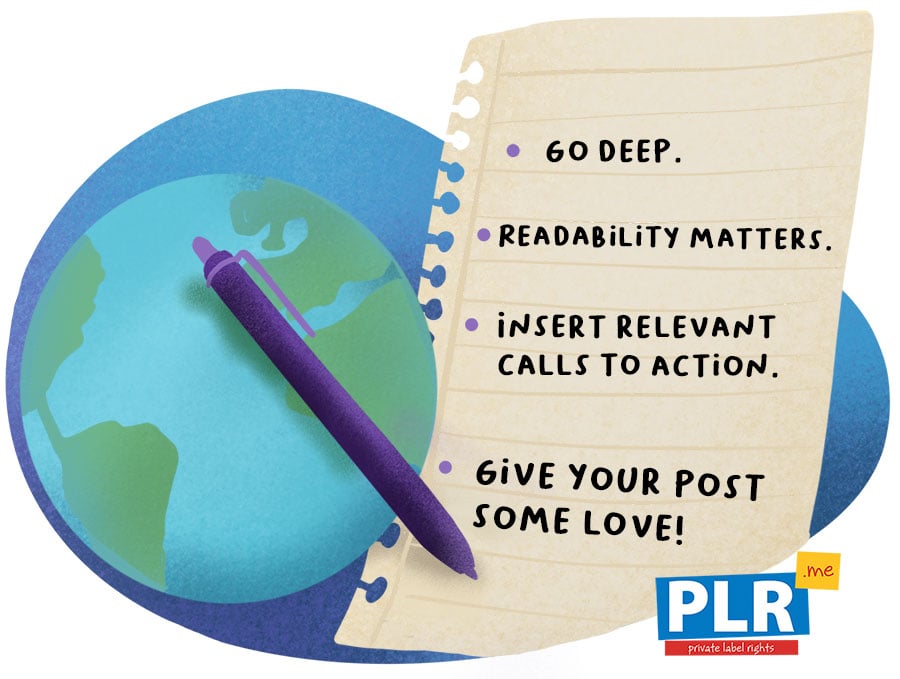 Lead Magnets and Content Upgrades
Create freebies that you giveaway in exchange for an email address. This could be worksheets, checklists, short reports, a 5-day challenge, journal, or short video training. We recommend publishing 1-2 lead magnets per month.
Make sure your freebie is high value. Give your potential clients something valuable so they get to know you, like you, and trust you.
Grow your email list. Make sure to collect names and email addresses in exchange for the freebie so you can grow your email list.
Create freebies that are congruent with your content. The more relevant the freebie is to your social posts, blogs, videos and emails, the more leads you'll get. For example, if you have a blog post or video series that focuses on "how to build confidence", then you could giveaway "The Ultimate Confidence Cheat Sheet".
Add calls to action. Your freebie should point your prospects to your products and services. Get them on a free consultation call, send them to a webinar, or promote a product from your store.
Integrate your freebie into your content. Naturally weave in these lead magnet into your emails, social posts, and videos. For example, tell a story about how you built up your confidence, then mention your free confidence cheat sheet.
Emails
One of the best ways to engage with your audience is via email. Sure, social media is important, but posting on someone else's platform means you're at the mercy of their rules. If Facebook decides to limit your reach or shut down your account, the audience you spent years building can be gone in an instant.
Be engaging. Share tips, resources, articles, and helpful advice. Encourage your audience to click and even reply to your emails. This boosts email deliverability and develops a stronger bond with your email list.
Don't be pitchy! Your emails shouldn't be a constant pitchfest! Follow the 80-20 rule. 80% of your emails should be genuinely helpful and engaging while 20% can gently pitch a product or special offer.
Email frequency. Send emails to your list at least once per week, but if you can work up to 3-5 emails per week, even better! If you are being engaging and genuinely helpful, the greater email frequency won't big a big deal.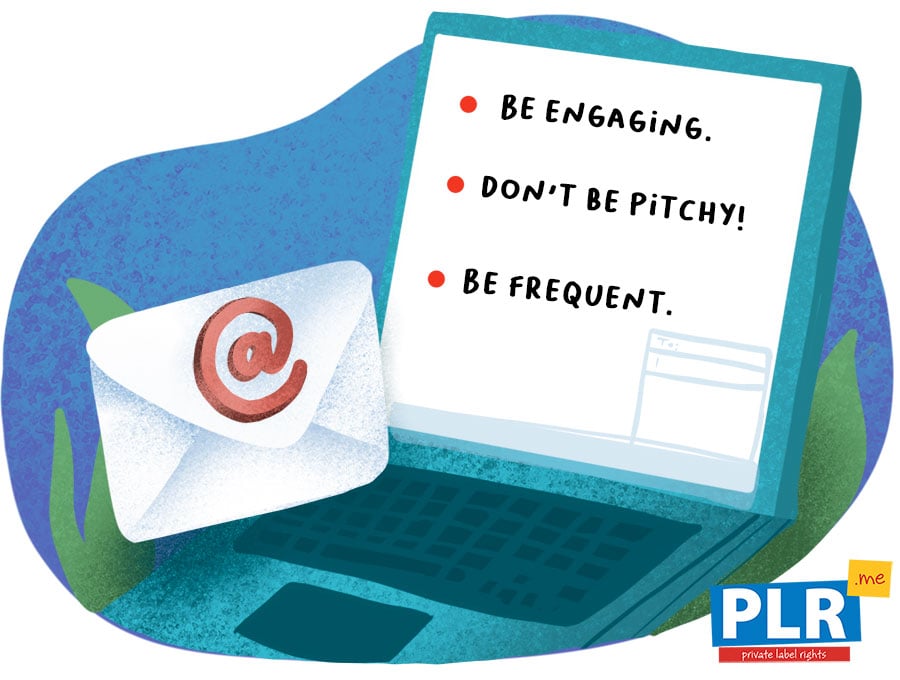 Social Media Posts
If you want to stay top of mind with your audience, you need to be sharing consistently on social media. The ideal is to post at least 2-3 times per day if you want to be seen in the news feed of your audience.
Be where your clients are. You can't be everywhere, so pick and choose the platforms you want to focus on. For example, if your clients are more business owners, focus on LinkedIn and Facebook. Working moms? Focus more on Instagram, Pinterest, or Facebook.
Schedule posts in advance. Going on holiday or want to batch your social posting? Use Facebook built-in scheduling to schedule posts in advance. You can also use tools like Buffer or Hootsuite as well.
Use hashtags. Hashtags help your posts get discovered, especially if it relates to current events or holidays. You'll see more about this below.
Be engaging. Being a little controversial, polarizing, or vulnerable can boost your engagement. Use this to encourage comments and shares.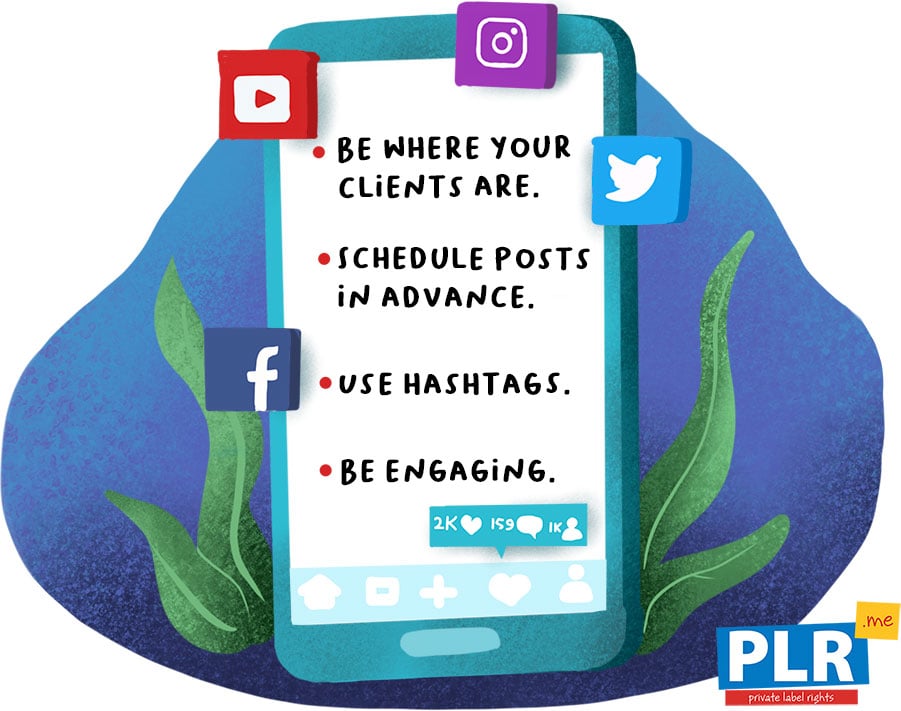 Live Streams
Facebook, Instagram, and YouTube live streams are a great way to connect with your tribe. Your tribe will love to ask you questions live and learn from you through this intimate medium. Depending on your comfort level on camera, we recommend hosting anywhere from 1-4 live streams per month.
Be genuine. Live streams are meant to give intimate access to you as the expert. Don't feel like you need to be scripted or too polished. Just be you!
Be interactive. Even though it may feel like you're talking to yourself, you're not! Your audience is with you and wants to feel part of your inner circle. So don't treat it as a one-way lecture! Ask questions. Encourage comments and sharing. The more comments your stream gets, the more your followers will see it!
Go live on multiple sites at once. Use a tool like Restream to go live on Facebook, YouTube, and other platforms all at once. One bird, many stones.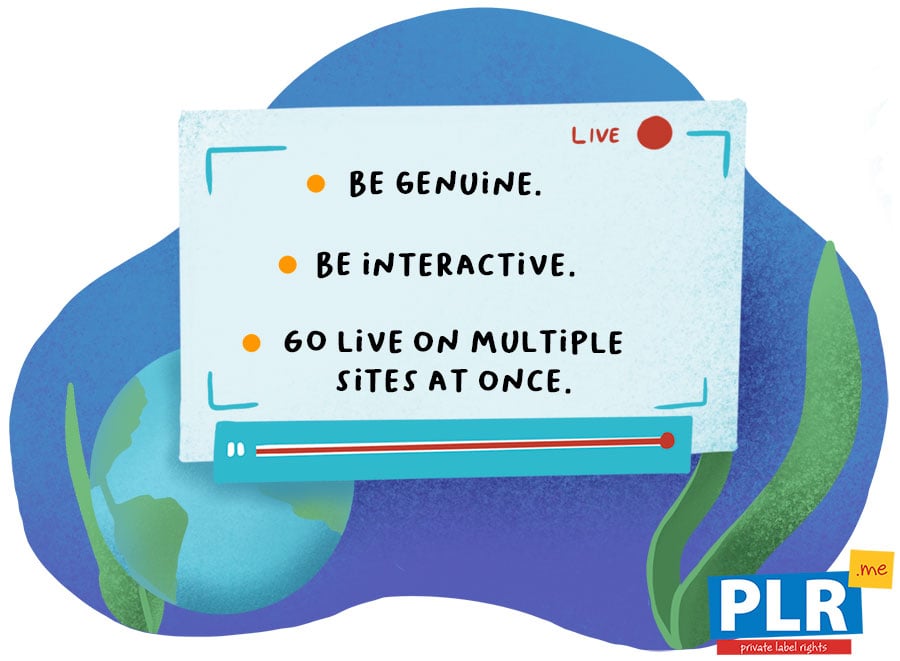 Webinars
Webinar presentations are a fantastic way to offer live or recorded training for your clients. Just share your screen to show your presentation slides and you can even share your camera as well. Since these presentations tend to be 30 - 90 minute presentations, doing 1 webinar per month is plenty.
Webinar platforms. There are several platforms to host your webinars – Zoom, BigMarker, GoToWebinar, and several others. Don't get caught up in analysis paralysis. Just choose one and build momentum.
Free or paid? You can make your webinars free for your audience and pitch your products and services. You can make the live webinar free, but charge for the replay, or you can charge to get access to the webinar as part of a one-time or monthly fee.
Add calls to action. Hosting a free webinar? Remember to add a call to action to a free consultation, product, or service.
Offer replays for a limited time. The majority of your audience can't join you live, so offering a replay is a must – especially if you're promoting a special offer. And the best way to get procrastinators to take action is to add a deadline on the replay. We've found 48 or 72 hours after the webinar is the ideal deadline. You can use a tool like Deadline Funnel to create urgency for the replay.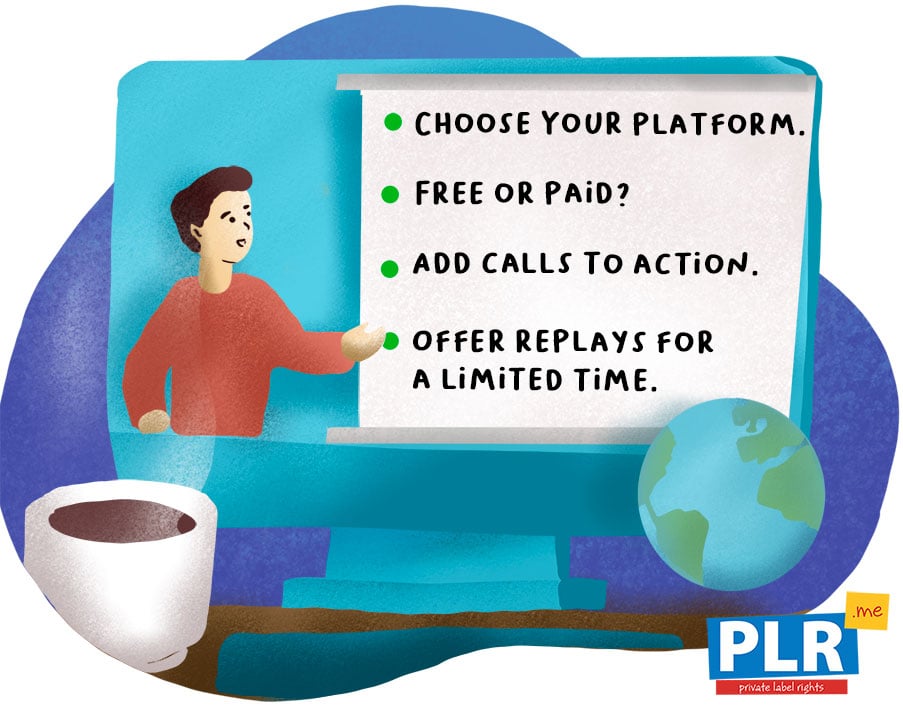 Courses
Training courses are a great way to help your clients achieve breakthroughs and discover new concepts. We recommend releasing one course per quarter so you can help your audience learn at a much deeper level. Of course, the more courses you release, the more upsells you will have to diversify your income.
Wait… one course per quarter? Are you crazy!?
Maybe a little! But here's the deal…
Important!
If you want to grow a business that doesn't rely on you selling your precious time, then you need to build a product line that both generates passive income and solves a problem for your clients. This is the difference maker between a part-time income, and a full-time multiple-six figure income.
If the thought of creating a course overwhelms you, thankfully we solved that problem with these done-for-you PLR courses. (You're welcome).
Onto some course building tips...
Course platforms. There are several platforms to host your courses – Thinkific, Teachable, EverLesson, LearnDash, and several others. Just like the webinar platform, don't get caught up trying to find the perfect platform. Pick one and build momentum.
Text is good, video is better. If you're short on time or you're not on speaking terms with your camera, then just stick with a text-based course. But if you can carve out a weekend to record a video version of your course, then go for it! In fact, PLR.me client Richard Butler records, edits, and publishes his courses over a single weekend.
Focus on one problem. The goal isn't to build an encyclopedia. That's been done. Just build a course that zeroes in on one problem. Think: "Conquer Emotional Eating" instead of "The Ultimate A-to-Z Guide to Weight Loss, Diet, Exercise, and Mindset". Focusing on one problem is easier to solve and it's easier for your clients to see success because it won't feel overwhelming. Plus it's far easier for you to launch!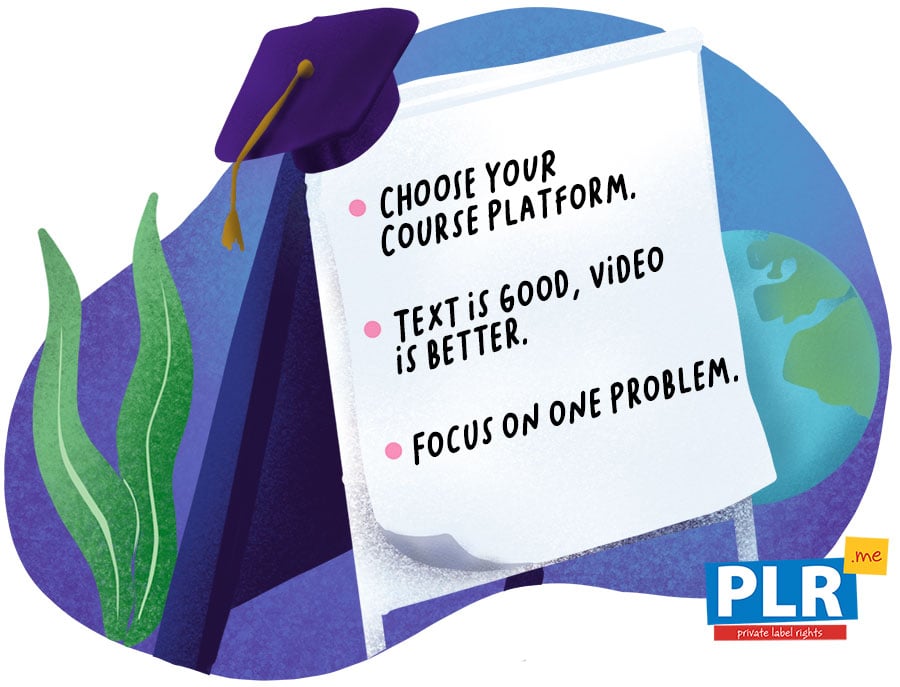 eBooks
eBooks allow you to share in-depth content and show off your expertise to your audience. We suggest sharing one eBook per month or add several ebooks to a membership site or learning center for your clients.
Lead magnets or low-ticket offers. You can giveaway a report as a lead magnet (in exchange for an email address so you can grow your list). Or you can sell your eBook as a low-ticket ($7 - 47) entry point into your coaching funnel.
Integrate calls to action. Build a follow-up plan for your reader after they read through the book. This is where you promote your other products, services, memberships, or coaching within the eBook.
Bonuses and incentives. Bring readers back to your site by giving away a bonus package. You could offer email coaching, worksheets, spreadsheets, videos, or any other digital bonuses.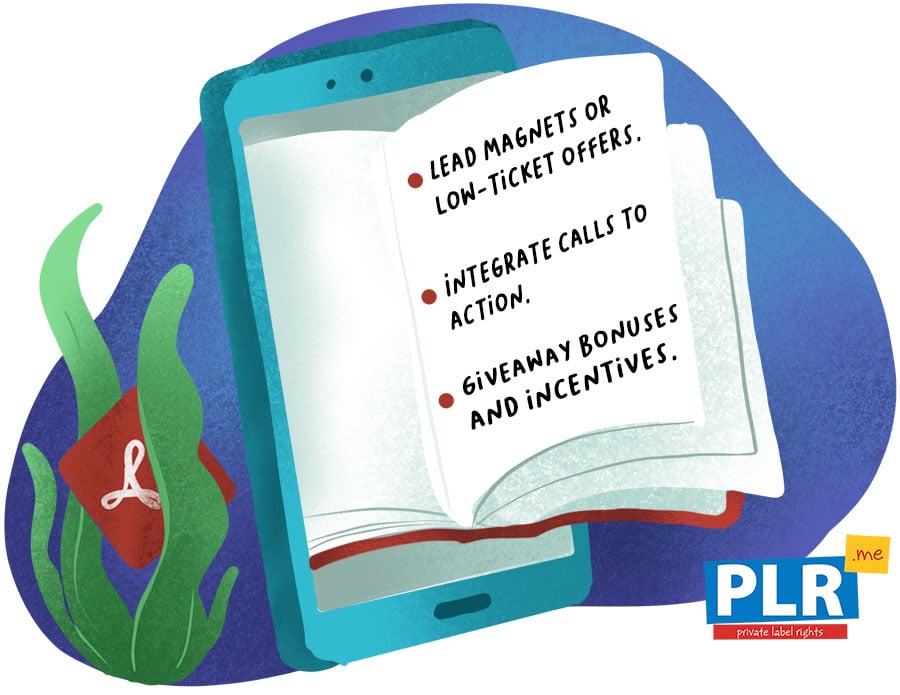 Slide Decks
Presentation slides allow you to share information in a visually appealing format. You can share stats, graphics, quotes, and tips as a PowerPoint presentation or PDF.
Avoid slide overload. No one wants to read an essay on every slide! Break up the text so it's just a sentence or two per slide. It's better to have 50 slides with lots of white space and visuals vs of 10 jam-packed slides. Brief is best.
The slides need to stand on their own legs. You don't have the luxury of explaining things via audio or video when delivering a PDF, so make sure the reader can grasp your concepts by reading alone.
Publish the slides. Upload the slides on Slide Share for additional exposure. You can even embed the slides onto your own website.
Those are just a few ideas on the types of content you can publish as part of your content marketing plan. It's not about doing everything – just do what feels right to you and your brand.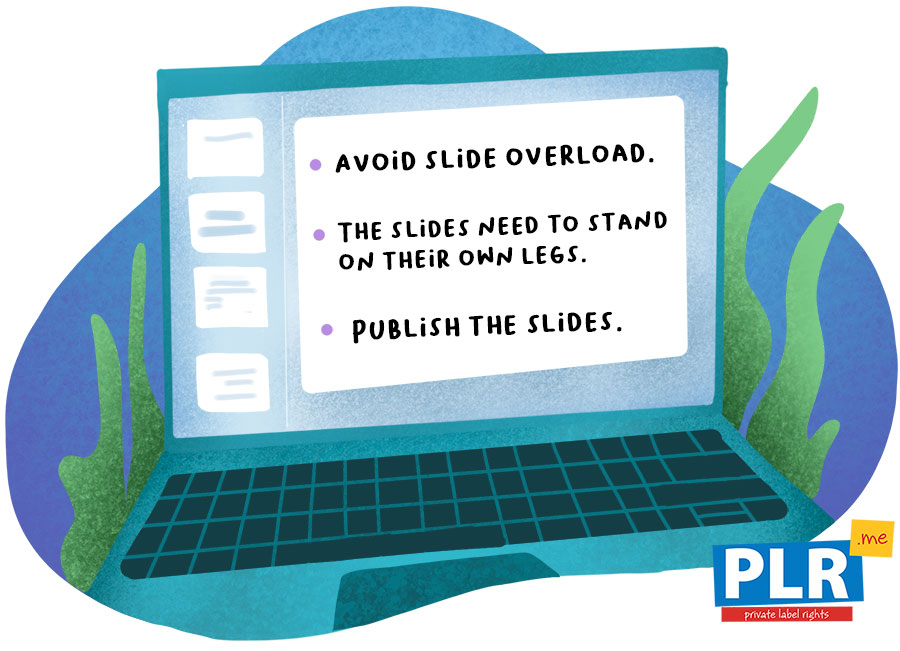 Content Planning Strategies
There are a number of tips and tricks to consider when planning and scheduling your content. These strategies will help to maximize the impact of your content marketing.
Know Your Audience
The more deeply you know and understand your audience, the stronger your content will resonate with them.
Take some time to reflect on who your ideal person is. What are their desires, problems, questions, weaknesses, passions, and joys? What makes them tick? What are their wildest dreams?
Once you know more about your audience, you're able to tailor your content to their hopes, dreams, desires, and problems.
Tip: We put together a free Secret Sauce Workbook that walks you through 11 simple questions to help you identify your ideal person.
The Format
It's helpful to mix up the format of the content you give to your audience. One week you might send them a blog post, next week to a video, and the next an audio meditation.
By changing up what you send to your audience, you appeal to different learning styles, as well as people's desire for variety.
When planning out your content calendar, consider how you can share content in a variety of formats.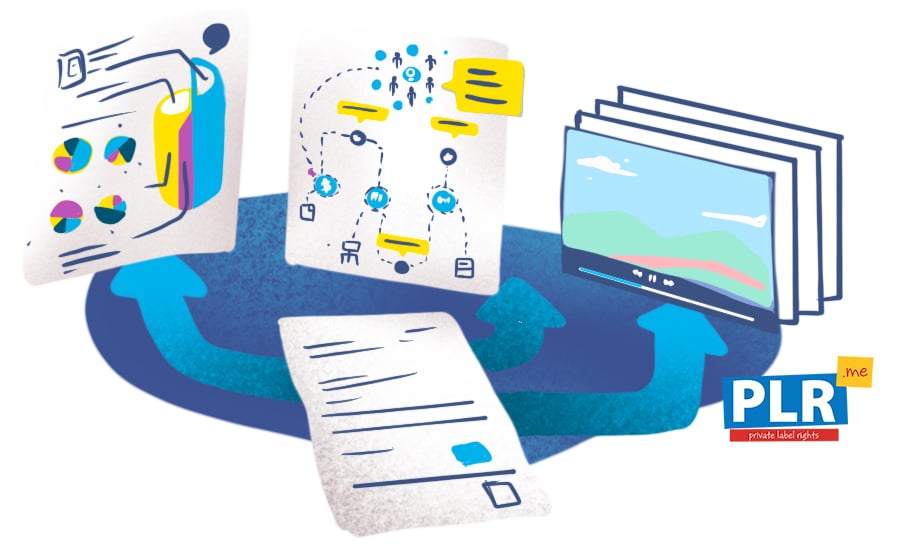 High Quality Images
When adding images to your social posts, blogs, emails, or other marketing materials, make sure you use high-quality photos.
Skip the cheesy 1990s clipart and stick with professional photos that match your brand and style.
No, this won't cost you an arm and a leg. There are a number of places where you can get totally free, ultra high-quality photos.
Here are a few of our favorites:
How to Measure The Success Of Your Content Marketing Strategy
Once you've fully mapped out your marketing content calendar, you've already done most of the hard work!
The next step is to measure how your content is received.
Did certain topics resonate more with your audience? Did your tribe respond better to a live stream, video, or text?
Track it!
When you track what's working (or not working!), you can then double down on the topics or types of content that performed the best.
Plus, you'll gain measurable insights into what your audience actually wants. Ultimately, this means you'll develop new programs, webinars, and training courses that are aligned with your audience's deepest desires… which means it'll convert better!
For example, one of our clients noticed that whenever he posted about parenting on social media, the number of comments and shares skyrocketed. This led him to create an epic parenting program that has become extremely popular with his tribe.
Not sure how to track your social stats? Use a simple spreadsheet to keep tabs on your content's engagement. You can check out Scott Oldford's social media tracking spreadsheet and learn how he uses it.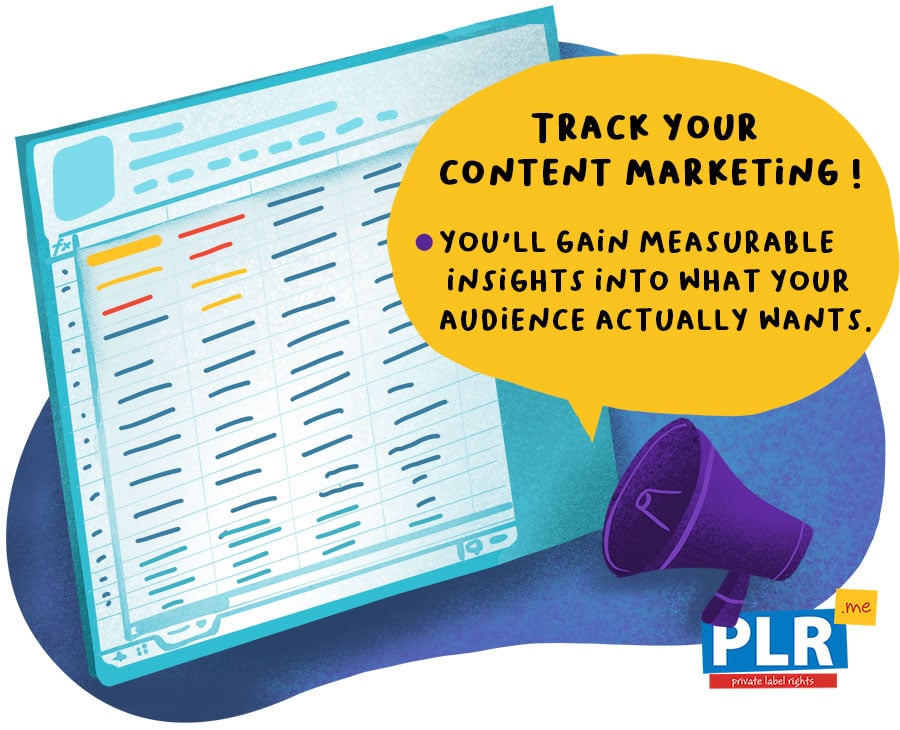 Too Busy? Here's a Simple Content Marketing Calendar Shortcut...
Now that you know what's involved in creating a content calendar, all you need to do is get started!
Buuuut… it's a TON of work, isn't it?
Well, thankfully we did the heavy lifting for you.
Our team spent hundreds of hours putting together this Ultimate Content Marketing Calendar for coaches and consultants.
We assembled over 200 holidays and fun events with content tips and marketing ideas for each event. It's over 40,000 words of awesomeness! (Phew!)
Plus we added relevant hashtags for each holiday along with links to the popular social networks to see what others are posting using those hashtags.
And we saved the best for last...
We made a comprehensive list of done-for-you PLR content for each holiday that you can download, tweak, and brand as your own. That way you don't have to write from scratch!
What is PLR Content?
PLR stands for "private label rights". It is also known as white label or licensed content.
With PLR content, you get a "non-exclusive license" – which means others also license the same item, just like stock photos.
When you license the content, you can make it your own by editing it, changing the title, adding your own commentary, examples, stories, and more.
The best part?
When you license the content, you can brand it and sell it as your own – and you keep 100% of the profits. No ongoing license fees or royalties. And no attribution necessary.
You can use the PLR content to create social posts, emails, blogs, workshops, webinars, lead magnets, physical products, and more.
PLR.me content gives you the ultimate advantage.
Why?
Because you don't have to write from scratch. Just download the content, make it your own, then sell it or give it away.
Here's a quick 77 second video about how PLR works:
Not yet a PLR.me member?
Create a free account and get 2 FREE download credits per month.
(Free credits don't rollover, so use 'em or lose 'em!)
Monthly Content Plans
Now let's get started…
Explore the content marketing calendars below and – finally! – simplify your content marketing!