This done-for-you video sales letter is designed to accompany the done-for-you course - Keep The Fire Burning: How to Build a Loving Relationship That Lasts and the optional sales page.
Here's What It Looks Like

And it's yours to download and use as your own!

---
The video sales letter presentation is already written for you by our top copywriter...
...all you need to do is download this VSL template, add your personal info, record it, and upload it to your site.
---
Here's A Sneak Peek of the Video Sales Letter (with 204 slides!):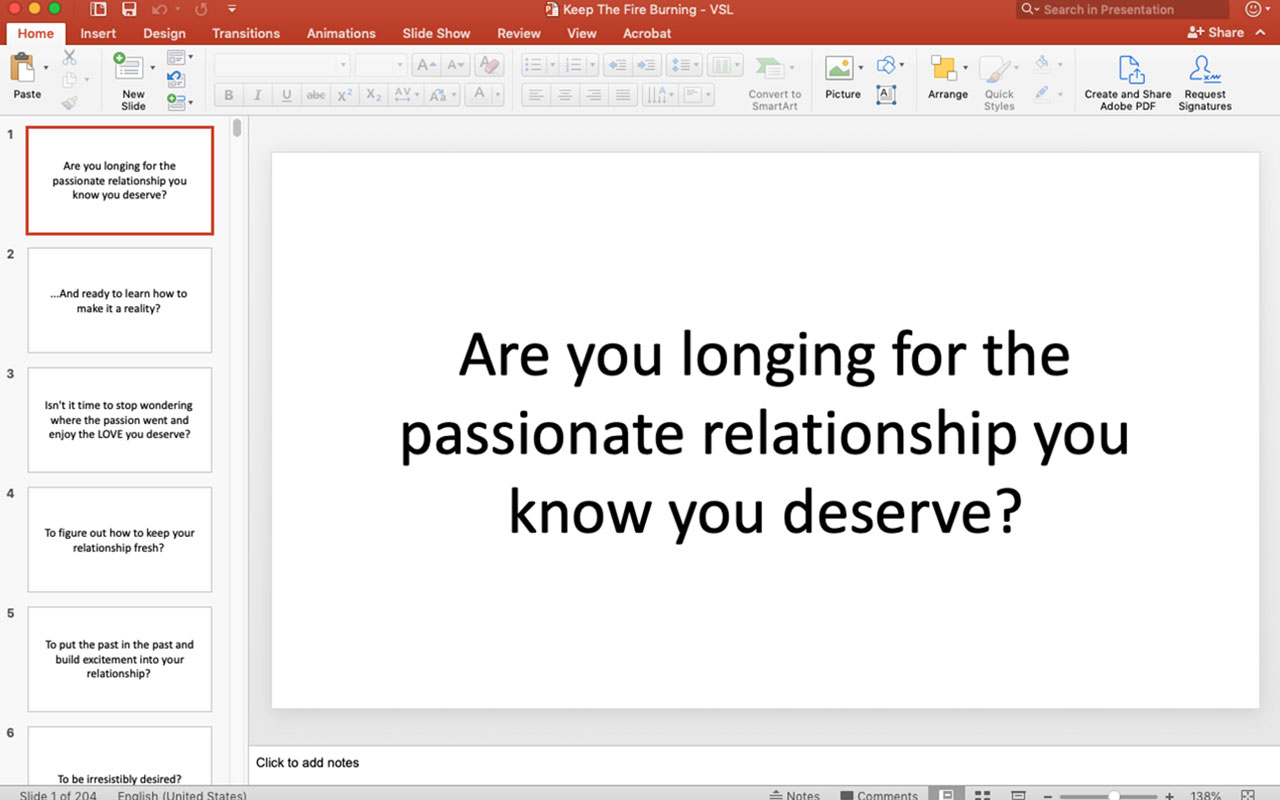 Why Do You Need A High Converting Video Sales Letter (VSL) For Your Course?
Videos sell. It's really that simple.
Your clients want to see and hear you before making a buying decision...
...and that's why we created this ready-to-use video sales letter for you.
You get the PowerPoint (PC/Mac) presentation with 204 slides, ready to record and present as your own.
Simply download it, record it, then upload it...
...and you're done!
---
Here's How To Use This PLR Course:
Step 1: Upload the relationship PLR course (available separately) to your favorite WordPress-based course software or LMS (learning management system)... or upload to your favorite course building software like Thinkific, Udemy, or Everlesson.
Step 2: Build your list using a lead magnet. Download the optional PLR lead magnet and opt-in page PLR template.
Step 3: Create your sales page. Use the optional beautiful done-for-you sales page, written, designed, and coded for you.
Step 4: Record this video sales letter (VSL).
Step 5: Create an upsell for a video coaching program. You can easily charge an extra $49 - $149+ for the video version.
Step 6: Run Facebook ads to the lead magnet or retargeting ads to the course. We created done-for-you Facebook ads that you can optionally download, tweak and use as your own.
Step 7: Send this optional PLR email automation sequence to those who download the lead magnet, encouraging them to purchase the full coaching program... and engagement emails to those who purchase the course to minimize refunds.
Step 8: Host it as a live webinar training series. You can download the optional presentation PLR slides that are specifically designed for this course.
---
The Bottom Line
Use this done-for-you video sales letter to promote your coaching program - Keep The Fire Burning: How to Build a Loving Relationship That Lasts (available separately).
Our top copywriter wrote the 204 slide presentation, and it's ready for you to download and record it with your own voice.
So go ahead... download this done-for-you top converting video sales letter now so you can get your course up for sale today!
SHOW MORE