These done-for-you slide deck presentations are designed to accompany the done-for-you relationship PLR course - True Love: How To Find Your Soulmate.
With this done-for-you PLR webinar course, you will help your clients to overcome infatuation, reflect on their past relationships, and confronting hurt and disappointment.

---
We've done all the hard work for you by converting True Love: How To Find Your Soulmate text-based course (available separately) into a complete webinar course so you can quickly create live presentations, workshops, and webinars.
Here's What It Looks Like: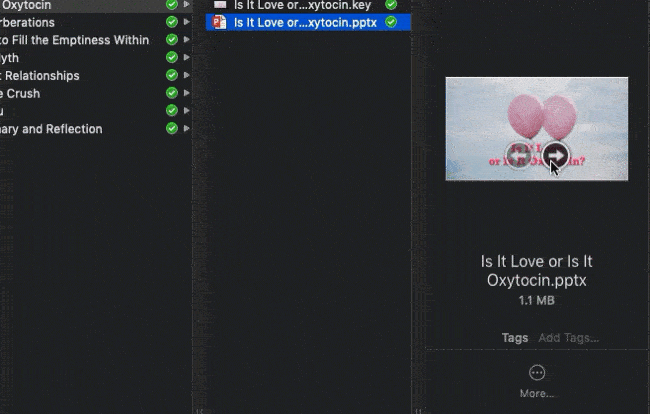 Build A Profitable Coaching Program In Just Minutes with this PLR Course
We give you the complete slide deck presentations for ALL 24 lessons, which you can customize to your style and personality.
But this ain't any ol' slide deck...
Each slide deck presentation is meticulously designed with royalty free images...
...and you get the full presentation notes for each slide so you can quickly record your own videos and webinars today. Just read the notes and add your own comments.
See for yourself...
---
Here's What The "True Love" PLR Presentations Look Like: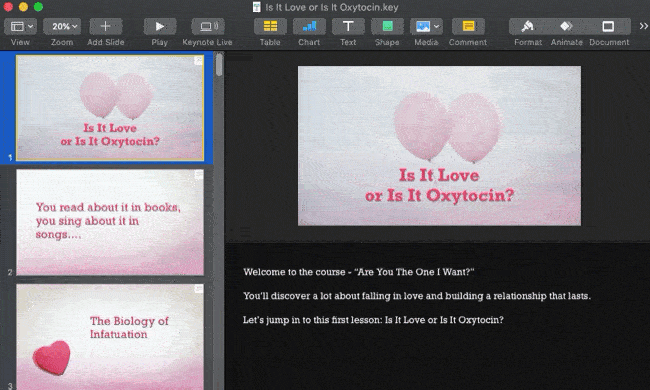 Your clients are looking to find the love of their life and build a solid relationship based on true love, especially...
The college student looking for their first real love
The widow hoping to find love again
The person who sacrificed their love life for their career
The woman who has been burned over many relationships
The divorcee who is ready to start over
The introvert who is afraid of rejection
ANYONE longing to find their SOULMATE and experience the relationship of their dreams.
This is a complete done-for-you PLR webinar course ready to be customized and launched by you as soon as you get it.
---
Here's what you get inside The "True Love" webinar course:
There are 3 modules with 24 total lessons. This isn't some fluffy slide deck with photos of cute kittens, posing as a webinar course.
We took the written course (available separately here) and created 24 PowerPoint (PC/Mac) presentations and added presentation notes so you don't even have to think about what to say.
If you can read, you can present this today.
This is a COMPLETE done-for-you PLR course, ready to be customized and launched by you as soon as you get it.
Here's the breakdown...
---
Here's what you get inside the "True Love" Relationship PLR Webinar Course:
Module 1: Is My Soulmate Here?
Love at first sight or love at first sound, has it happened to you? In this module your students will learn how the body manufactures chemicals to "make" you fall in love. They'll also explore how their family history can result in painful patterns feeling comfortable to them. Finally, they'll learn the truth behind soulmates.
Lesson 1 - Is It Love or Is It Oxytocin
Lesson 2 - Childhood Reverberations
Lesson 3 - Beware of the Need to Fill the Emptiness Within
Lesson 4 - The Soulmate Myth
Lesson 5 - The Role of Past Relationships
Lesson 6 - Un-Crushing the Crush
Lesson 7 - Do You Love You Lesson
Lesson 8 - Module 1 Summary and Reflection
Module 1 Quiz - Is My Soulmate Here?
Module 2: Are You The One I Want?
In Module 2 they'll be looking at what they consciously want in a partner. Each lesson will guide them through several topics to assist them in coming to know what they want in a relationship when the butterflies in their stomach quit flitting around. By the end of the module, they will end up with a list of the qualities in an individual which are must haves for them to be happy.
Lesson 9 - Unknown Influences in Relationships
Lesson 10 - Whats Important Physical or Emotional Intimacy
Lesson 11 - Will You Communicate With Me
Lesson 12 - Sexuality and Sensuality
Lesson 13 - What's Your Love Language
Lesson 14 - The Challenge of Change
Lesson 15 - What Do You Want Most
Lesson 16 - Module 2 Summary and Reflection
Module 2 Quiz - Are You The One I Want?
Module 3: Bumps In The Road
Every relationship has high times and low times. It doesn't matter if the relationship is with the family you grew up with, work, friends or with your partner. Preparation makes everything easier. Learn the key strategies to keep bumps in the road from becoming deep holes difficult to climb out of.
Lesson 17 - Whats Your Programming
Lesson 18 - Is It a Mistake or a Pattern
Lesson 19 - What Are Your Non Negotiables
Lesson 20 - Confronting Hurt and Disappointment
Lesson 21 - Can You Forgive and Forget
Lesson 22 - Relationships Are Wonderful
Lesson 23 - Strategies to Keep the Spark
Lesson 24 - Module 3 Summary and Reflection
Module 3 Quiz - Bumps In The Road
---
Here's what this done-for-you webinar slides do for you:
DEMONSTRATE your knowledge, expertise, compassion, and wisdom
ATTRACT those who would not normally want coaching
BUILD and strengthen your brand
Become the GO-TO relationship coach
Generate a new and CONSISTENT revenue stream
ATTRACT only the best clients
SELL MORE of your other products and services
GROW your email list
Build a POWERFUL sales funnel
TEAM UP with affiliate partners to connect with other audiences
---
Here's How To Use This PLR Course:
Step 1: Upload the text-based course materials (available separately) to your favorite WordPress-based course software or LMS (learning management system)... or upload to your favorite course building software like Thinkific, Udemy, or Everlesson.
Step 2: Build your list using a lead magnet. Download the optional PLR lead magnet and opt-in page PLR template.
Step 3: Create your sales page. Use the optional beautiful done-for-you sales page, written, designed, and coded for you.
Step 4: Record a video sales letter (VSL). You can get the optional done-for-you video sales letter.
Step 5: Create an upsell for a video coaching program. You can easily charge an extra $49 - $149+ for the video version.
Step 6: Run Facebook ads to the lead magnet or retargeting ads to the course. We created done-for-you Facebook ads that you can optionally download, tweak and use as your own.
Step 7: Send this optional PLR email automation sequence to those who download the lead magnet, encouraging them to purchase the full coaching program... and engagement emails to those who purchase the course to minimize refunds.
Step 8: Host it as a live webinar training series using these slide deck presentations.
---
Additional Pricing and Marketing Strategies:
Pricing recommendation: $99 - $199+ for the initial course, plus an additional $49 - $149+ for the video version or live webinar training.
Physical product: Print it out and sell this physical home-study program.
Don't have course software? Just send the modules as an email-based course. Keep it simple and get started right away.
Additional upsells: Create another upsell or a "gold package" that includes private coaching, group coaching, or email coaching.
Bring the course on the road: Run the course as a weekend retreat, transformational retreat, or live event. You can easily charge $500 to $5,000+ for a live event that includes group sessions, private coaching, pampering, and gourmet dining.
---
The Bottom Line
These done-for-you PLR presentation slides are the fast and easy way to create a video or webinar version of your coaching program.
You can launch IMMEDIATELY, without writing a single word...
So go ahead and download the presentations slides and get started!
MORE