This Landing Page template is designed to accompany the 5-Day Public Speaking Coaching Challenge.
This beautiful landing page template typically converts between 50-60%...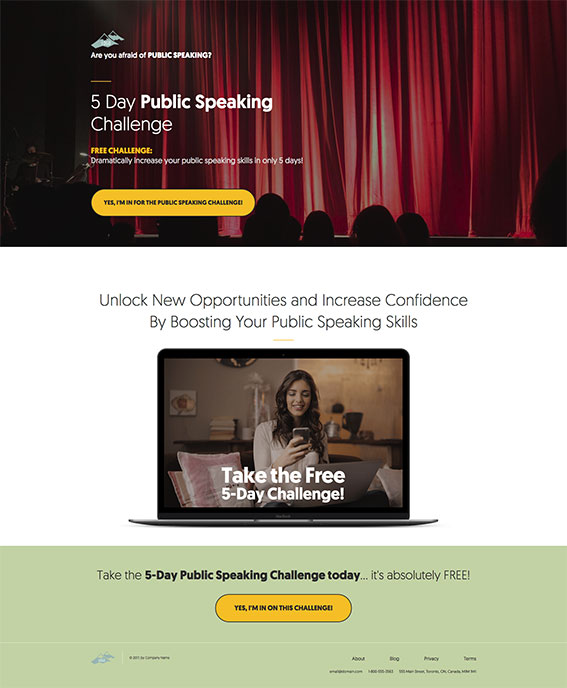 And it's yours to download and use as your own!
All you need to do is download this HTML template, connect your email autoresponder, and upload it to your site.
We provide a simple video tutorial showing you how to customize the landing page and upload it to your server.
Not sure how to do it? Just pass it along to your webmaster.
Plus you get all source files: images, CSS, JS, and fonts.

---
Here's What It Looks Like
---
Why Do You Need A High Converting Landing Page For Your Public Speaking Challenge?
We want your 5-day coaching challenge to be a HUGE success...
...and that starts with building your list.
Your landing page is the first page that new prospects see when they land on your site.
A good landing page has to:
Make a great first impression
Convey the core benefits of the offer quickly and persuasively
Look beautiful and modern
Get your site visitors to sign up within about 60 seconds before they leave your site.
It's a tall task for a simple page! That's why you want to ensure that your landing page converts extremely well...
Unfortunately, most landing pages are untested and just don't convert.
That's why we built this stunning landing page, especially for the 5-Day Public Speaking Challenge.
Simply download it, add your branding, connect it to your email provider (we use and recommend ActiveCampaign), then upload it to your server... ...and you're done!
How Can You Use The Public Speaking Challenge In Your Practice?
Step 1: Post the daily challenges – one day at a time – on your website, email autoresponder, or Facebook page. Download the public speaking PLR challenge.
Step 2: Create a private Facebook group where your clients can engage with you and each other. You can use this place as an accountability group where they post their progress and ask questions. But you can also engage your audience through daily Facebook live streams or "Ask Me Anything" posts, where you answer their questions.
Step 3: Create your landing page to turn your visitors into warm leads on your email list. (Tip: Download this high converting landing page template that we created especially for the 5-Day Public Speaking Challenge.)
Step 4: Send out a couple emails promoting the public speaking challenge. And use our public speaking email sequence to promote your daily challenges and convert those prospects in high-paying coaching clients.
Step 5: Jumpstart your marketing by running some targeted Facebook ads. Use our done-for-you Facebook ads as a shortcut.
...and after your prospects go through the five-day challenge, keep them engaged and motivated by offering additional courses, coaching programs, webinars, or private coaching.
The Bottom Line
Five day challenges are an excellent way to grow your list. It's an easy concept to understand and it's a great way to inspire, inform, and encourage your tribe to make little daily tweaks that have lasting effects.
You can use this landing page to capture new coaching leads, boost your email list, and draw people into your other products and services.
So go ahead and download this done-for-you high converting landing page and get started!

SHOW MORE