YOU CAN
Brand It As Your Own
Give It Away or Sell It
Repurpose into other formats
Keep 100% of the Profit.
No Attribution or Royalties
Use in Unlimited Projects
Loss, Grief and Betrayal PLR Course Bundle – "Healing From Emotional Trauma, Breakups, And Betrayal"
---
Do you want to help your clients to heal the pain of loss, breakups, or betrayal? Do you want to help your clients discover a renewed feeling of hope and optimism?
This loss and grief PLR course bundle gives you proven strategies to help your clients to:
Overcome the emotional trauma of breakups and betrayal
Release the negative anger and pain
Understand true forgiveness to bring freedom
Let go of childhood beliefs that interfere with their healing
Tame the pain from emotional trauma
The text-based course has 3 modules and 13 lessons, 3 quizzes (one for each module), and 25+ additional handouts (bonus supplementary material that encourages retention).
Course Breakdown:
Module 1: Why It's So Hard to Let Go of the Pain
There isn't a person in the world who hasn't been hurt by someone. Releasing the pain from these wounds is difficult for many, if not most.
In this module, your readers will learn how releasing the pain from the past is more complicated than just "getting over it." There are emotional, physical, and mental reasons why letting go of the past is so difficult.
Lesson 1 - Understanding What Happens Emotionally
Lesson 2 - Understanding What Happens Physically
Lesson 3 - Understanding What Happens Mentally
Lesson 4 - Module 1 Summary and Reflection

Module 2: Understanding Forgiveness
The number and type of hurts suffered in the past, combined with thoughts and beliefs, can make it difficult to release the past. When you add the biochemical response the body has to hurt, it's a wonder anyone can forgive another.
In this module, your readers will learn that their view of forgiveness can add to the difficulty of putting the past behind them. They'll explore what forgiveness is and what forgiveness isn't. This knowledge will assist them in letting go of the hurt and moving forward with their life in joy.
Lesson 5 - What Forgiveness Is Not
Lesson 6 - What Forgiveness Is
Lesson 7 - Module 2 Summary and Reflection

Module 3: Strategies to Let the Pain Go
Your readers now know why it's difficult to release or forgive the past. They also know why forgiveness is so very important for them. The question they are left with is, "If forgiving is so good for me, how do I let all the pain go?"
In this module, they'll be introduced to a number of activities and techniques to assist them in forgiving and releasing the past.
Lesson 8 - Recognize How Powerful You Are
Lesson 9 - Align Your Beliefs to Releasing Pain
Lesson 10 - Think Your Way to Freedom
Lesson 11 - Tame the Pain
Lesson 12 - Changing Behavior
Lesson 13 - Module 3 Summary and Reflection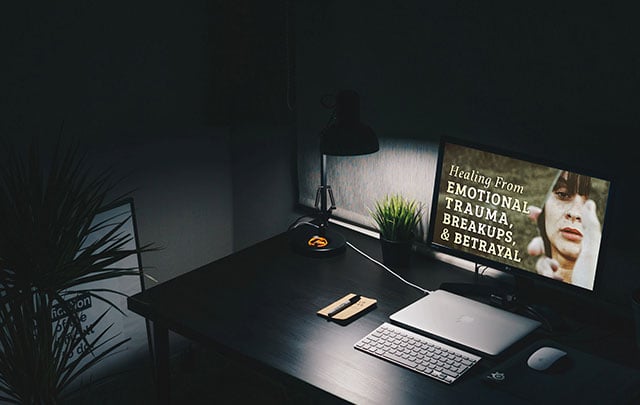 This white label course bundle covers:
The SURPRISING ways you can work with the chemistry of your body to stop the negative effects of loss
How to OVERCOME the myth that happiness is only for the few
How to ELIMINATE negative emotional programming from your trauma
How to PREPARE yourself for a bright future
Techniques to MOVE from pain to freedom
How to ACCEPT what happened without feeling the pain
How to DETERMINE what you need to heal
How to identify CHALLENGES to your healing journey
STRATEGIES to leave the pain behind
And so much more!
As a coach, author, blogger, therapist, or counselor you can download this done-for-you PLR course and help your clients finally move past the pain and overcome the obstacles to a life free from emotional trauma.
In this PLR course bundle, you'll get a complete done-for-you coaching program that you can brand as your own - including course lessons with quizzes, action guides, a slide deck presentation of each lesson, lead magnet, Facebook ads, sales page, and more.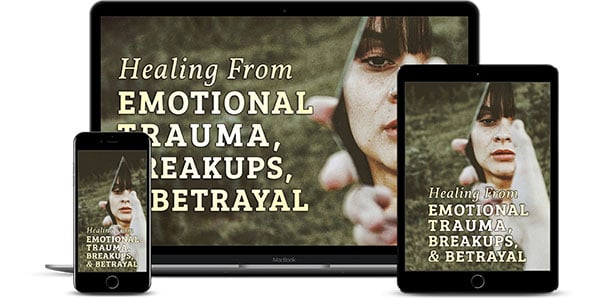 With this course bundle, you get everything you need to launch this course as your own and keep 100% of the profit:
Text-based course (3 modules, 13 lessons, and 25+ additional resources)
Slide Deck Presentations for all 13 lessons
Pre-sale and post-sale email sequences
10 Facebook ads and 12 eye-catching ad images
Landing Page (written by our top copywriter and designed by our web developers)
Lead Magnet (to giveaway and grow your list)
Sales Page (written by our top copywriter and designed beautifully in HTML for you)
Video Sales Letter Slides (written by our top copywriter)
Want an upsell or cross-sell?
Check out these related courses:
Who Can Make Use Of This Private Label Course?
Coaches who want to help clients overcome the emotional pain of trauma, loss, breakups, and betrayal.
Authors who write about loss and grief can use this content to develop a course or book about re-building life after loss.
Bloggers will love this bundle because it's well-written and will keep readers interested and coming back for more.
Speakers and Trainers can use this course bundle to offer in-person or web-based workshops.
You can position yourself as a leading expert in your niche so you can help your clients enjoy freedom from emotional trauma and betrayal.
And as with all PLR.me content, you can put your name on this content and publish it as your own across any format – audio, video, text, webinars, podcasts, courses, or even live events.
SHOW MORE