Generally speaking, people SUCK at predicting the future.
Do you remember the movie Back To The Future 2?
In the movie, Marty McFly (Michael J. Fox) travels to the year 2015 and gets a firsthand look at what the "future" will look like.
According to the movie, the following things should exist by now:
Self-lacing shoes
Hoverboards (real hoverboards, not those stupid rolling things)
Flying cars
Widespread use of fax machines and phone booths
The lesson?
It's very difficult to predict what will exist in 25 years.
However, we can predict what will happen in the next year.
As someone who works with a LOT of coaches, I have a pretty good sense of where the coaching industry is headed and what trends will actually matter.
Here are 5 coaching and marketing trends that you NEED to know right now…
Trend #1: The Convergence of Branding and Direct Response
Increasingly, coaches are going to have to walk a fine line between building their brands and closing the sale.
If you only focus on building your brand, you'll end up with hordes of raving fans and an empty bank account.
If you only focus on the sale, you'll only be seen as money-grubbers who offer nothing of value.
Ryan Deiss says:

Companies that focus on branding alone will go broke if they never figure out how to ask for the order. Companies that focus on direct response will go broke because everyone on Planet Earth hates them.
You'll need to understand how to simultaneously add great value to your potential clients while also knowing the right time to ask for the sale.
Branding is all about building the goodwill of potential clients.
It's about building a value-based relationship between you and potential clients, with you always building goodwill by adding value without asking for anything.
What kind of value can you add to potential clients? The options are numerous, but here are a few popular ones:
Epic blog posts which address a particular struggle or challenge your potential clients are facing.
Free worksheets that add additional value to the epic blog posts.
Free videos posted to your YouTube channel or Facebook page where you answer questions.
Free checklists that provide step-by-step solutions to everyday problems.
But goodwill building and branding aren't enough. If you don't know how to ask for a sale, you'll find yourself with lots of fans and zero money.
You'll be a very popular – but very broke – coach.
And so you also need to learn the art of the ask. You need to learn when to implement direct response marketing, where you're directly asking the potential client to buy.
BOTTOM LINE: The most successful coaches will be those who have perfectly blended branding and direct response marketing.
Trend #2: The Rise of Video
Video is HOT.
Really, really hot.
Facebook has approximately 8 billion video views every day. Live streaming services like Facebook Live, Periscope and Blab are growing in popularity, creating new "video stars" every day.
Coaches like Lewis Howes have thousands of subscribers to their YouTube channels and their videos get hundreds of thousands of views every month.
Now, you don't need to be the next video star, but if you want to connect more with potential coaching clients, you should consider getting in front of the camera.
Don't be intimidated.
Your video doesn't need to be an elaborate production worthy of Hollywood. You're not trying to be a flashy movie star or stand up comedian.
Your goal is to provide a personal connection with potential coaching clients, not create the next viral video.
By creating video content, you establish yourself as an authority in your field and you also create a level of transparency with potential clients.
A few simple tips for being on camera:
Sketch out a general flow for what you're going to say beforehand. This will keep you from endlessly rambling.
Speak loudly and clearly. Nothing worse than not being able to hear or understand what someone is saying.
Be yourself. Talk to the camera just like you'd talk to a friend. People want an authentic connection with you, not a performance.
Use your iPhone/iPad/Smartphone to record. The device in your pocket has an incredible camera. Don't overcomplicate things. Use what you have!
Use a tripod. I have an iPhone tripod mount, it makes for a nice steady shot.
Use a lapel mic. If you want to get serious about video recording, use a mic that clips to your shirt. I use a Rode SmartLav+ and it connects via the headphone jack on my iPhone. AWESOME audio quality. It's super affordable, and I use it for all of my video recording.
GOOD LIGHTING! Lighting will make a huge different in the end result. I have an LED light behind the camera – it brightens things up and looks more pro. Here's a simple single-point lighting option I use for simple recording, and another higher quality kit I use for longer shoots.
BOTTOM LINE: If you're not on camera, you're missing out on a tremendous opportunity to create a personal connection with potential clients.
Trend #3: All Hail Content
More and more people use ad blockers in their web browsers to keep intrusive ads from interrupting them.
Ads used to be a simple way of getting exposure for your coaching brand.
But with ads being blocked, you need to figure out new, creative ways to get your name in front of potential clients.
You need to embrace the power of content marketing.
Content marketing isn't complicated.
It works like this:
Create GREAT content on your site that you give away for free
Strategically send traffic to your site from sites like Facebook.
Use the power of content upgrades to build your email list.
Content marketing is powerful because it uses what's called permission marketing.
In other words, rather than interrupting people with advertisements, you get their permission to market to them. They visit your site and opt-in to your email list, which then gives you permission to market them.
As the marketing experts at the Content Marketing Institute say:
Basically, content marketing is the art of communicating with your customers and prospects without selling. It is non-interruption marketing. Instead of pitching your products or services, you are delivering information that makes your buyer more intelligent.

The essence of this content strategy is the belief that if we, as businesses, deliver consistent, ongoing valuable information to buyers, they ultimately reward us with their business and loyalty.
If you struggle to come up with content ideas, you might like this Ultimate Content Starter Kit we put together.
Since it's done-for-you licensed content, you can use the content as-is or tweak it to suit your business. Our clients swear by it. 😊
BOTTOM LINE: By regularly delivering high-quality content to your potential customers, you will build their loyalty and, consequently, your coaching business.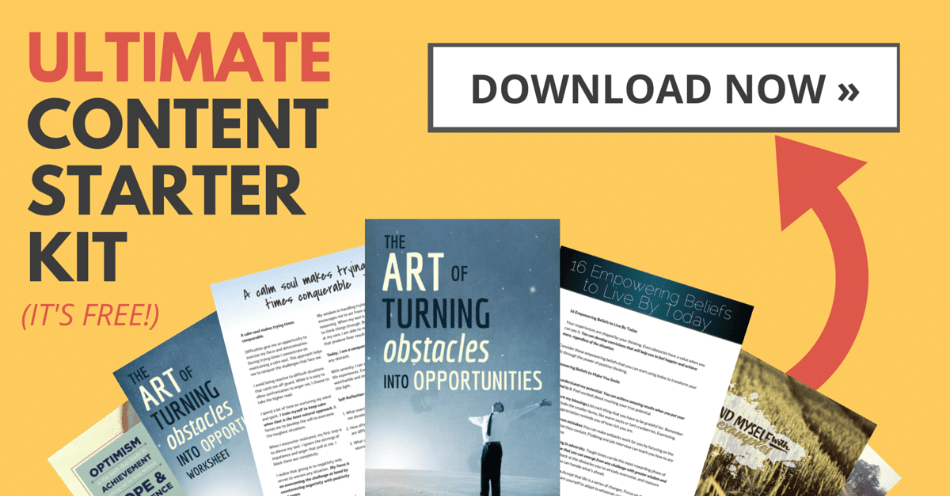 Trend #4: Retargeting Your Readers
Retargeting is a powerful way to pitch yourself to potential clients while still building goodwill in the relationship (as mentioned above).
Retargeting works like this:
You put a "pixel" (an invisible image that your audience will not see) on your website which invisibly tracks when people visit your site.
This pixel is provided to you by Facebook, Google, Twitter, and other ad networks. (Don't worry, this isn't shady or anything. Facebook and Google make this possible.)
For example, when someone comes to your site to read an epic blog post you've written, the invisible pixel will be "triggered" and it will "tag" that person as a visitor.
You can then create an ad on Facebook, Twitter, or Google to display only to people who have already visited your site (or a particular page on your site).
What this means is that after you have built goodwill by giving away value (branding), you can then advertise specifically to those who already know you and might be ready to work with you (direct response).
Why is retargeting so important?
Because retargeting allows you to interact with those who have already demonstrated an interest in you as a coach.
They've read one of your epic blog posts or downloaded your free cheat sheet. They know who you are and have at least some idea of what you have to offer.
And, most importantly, they may be ready to work with you.
Digital Marketer explains the retargeting process like this:
Step 1 – Create an ad that is only intended to amplify a piece of valuable content
Step 2 – Run traffic to that piece of content.  (This content needs to be outstanding!)
Step 3 – Drop a "pixel" on the content page (you get this from the ad networks like Facebook, Google, etc)
Step 4 – Retarget with a relevant ad.  This ad should be more direct response.
Step 5 – Run traffic from this ad to a landing page intended to generate leads or sales.
BOTTOM LINE: If you're not retargeting, you're missing out on a huge opportunity to pitch yourself to potential clients. Retargeting is a way to speak to potential clients without doing a hard "sell".
Trend #5: Epic Customer Experiences
In this age of marketing automation, retargeting, and hyper-targeted advertising, we can easily connect with our ideal customers in ways never imagined even 20 years ago.
This has led to some incredible advances in terms of how we can communicate with our customers.
Tweets
Status updates
Videos
Podcasts
Emails
Live streams
And through all of this, we can discover incredible insights about our customers, from the "stuff" they like on Facebook to how many seconds they've visited a specific web page on our site…
But none of this can replace the most basic form of human interaction: a simple conversation.
When everyone else is hiding behind their emails and status updates… be more accessible through group or private calls, personal welcome videos, or Q&A webinars.
When everyone else sticks to digital communication… send a personal thank you card in the mail or a thoughtful gift when they sign up for your products or services.acebook, Google, etc)
This is what makes you stand out and gets others talking about you on social media… not to mention it'll reduce refund rates.
BOTTOM LINE: Even with all of the incredible tools and technology available, you have to step up your customer experience. Be truly exceptional.
Trend #6: Productize Your Knowledge
Now more than ever, successful coaches need to productize their knowledge.
In other words, you'll move from selling only 1-on-1 services to selling services that can be accessed by many people at once.
Why? Because no longer are you limited to the people in your local area. Your audience is now global.
And with different time zones, languages, income levels, and commitment levels, your audience may not be able to schedule a session with you 1-on-1… but it doesn't mean you should forget about them!
The best way to reach more people?
Productize your knowledge.
This is one of the fastest ways to reach more people without cloning yourself.
That means your audience is craving your home study courses, video training, and workshop-based programs.
And by creating these products, you're capturing another segment of the market – the people who love what you teach, but just won't be your private client for one reason or another.
If you only sell 1-on-1 services, you'll be drastically limited by the number of hours in the day. After all, you can only be in one place at one time.
But when you productize your knowledge, you're suddenly able to reach many at once.
One of my consulting clients, Patrick Sullivan, is a Catholic  speaker and author. He  has 7 kids who are all homeschooled… so I guess you can say he's pretty busy. 😊
While he loves getting speaking gigs, he doesn't want to be traveling the world 300 days of the year for obvious reasons.
So what did he do?
He took one of his courses that he would typically deliver in-person, and turned it into an online home study program.
Instead of charging  $1,000 to run the course in person, he charged $89 per person for the 12 week course.
And he ended up making $3,500 in 48 hours just by launching the course to his existing small list of subscribers.
It gets even better…
Now that the course content is recorded, he can sell it online without having to travel or work any harder, month-after-month.
Another example:
Stress coach Jordan Friedman offers "Stress Coach U", which is a self-study web course about overcoming stress. This allows him to influence a significant number of people at one time.
Productivity coach, Casey Moore, sells a host of productivity related resources.
BOTTOM LINE: Successful coaches turn their hard-earned knowledge into a product that can be enjoyed by many people.
So… what next?
Smart coaches will trace the trends to create a competitive advantage for themselves.
And if you've read this far, that means you're one of those smart coaches. 😊
Here's what you need to do:
Find the perfect balance between branding and direct response
Courageously get on camera
Create killer content on a regular basis
Master the art of retargeting
Craft epic customer experiences
Productize your knowledge
The most successful coaches are those who create outstanding content for their potential clients.  Outstanding content like epic blog posts, courses, and viral images.
But after mentoring thousands of coaches, I've consistently found that most people get stuck with writer's block.
So all that epic content in their head? Never gets out.
That's why we created done-for-you licensed content. It's the secret shortcut of the top health and wellness professionals.
With done-for-you content, you can get content that you can use as your own… without writing from scratch and without hiring expensive freelancers.
Check out this free sample kit we put together…